14 Feb 2023
Expert network market size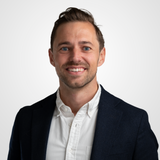 Max Friberg
CEO at Inex One
The expert network industry's revenues surpassed $2.1 Bn in 2022, generated by more than 120 expert networks.
The industry has seen 18% average growth since 2015. A pandemic-induced dip in H1 2020 was recovered by even stronger growth in 2020, with year-on-year growth surpassing 25% in 2021, only to slow down to 4% in 2022 as global deal activity fell.
Inex One has estimated the expert network industry market size in collaboration with Integrity Research. The analysis is based on public financial reports, IPO filings, benchmarks of available data and - of course - dozens of expert interviews. Thank you to everyone who contributed with insights!
Looking to start using an expert network? Try these resources:
Guide to getting started with expert networks.
Global expert network market 2023
Global leaders and regional champions
The expert network industry is led by four expert networks. GLG remains the largest player in an increasingly crowded market, seeing 8% CAGR since 2015. However, competitors are chipping away at its previously dominant market share. AlphaSights, Guidepoint and Third Bridge are at its heels, each growing at 15-30% CAGR over the same period, according to our analysis.
"Regional champions" are expert networks with a strong foothold in their respective regions or industry verticals, while also offering global services. For example, Capvision has long been the largest expert network in China. Correspondingly, VisasQ is dominant in Japan and recently acquired Coleman, with its relative strength with US asset managers. Dialectica and Atheneum have significant market share in Europe (especially within consulting firms).
Regional challengers and other small firms
Among the 100+ smaller expert networks, most have chose one of three tracks: (1) serving a specific region, (2) industry segment, or (3) applying a different business model. We find a handful being particularly interesting or fast-growing – these are the "regional challengers" separated from the larger "regional prospects" category.
For instance, Six Degrees and Prosapient are both growing fast with a standard expert network model. Conversely, Tegus and Stream are growing rapidly in the hedge fund vertical, based on seat subscriptions to their call transcript content libraries.
Some networks have been around for a decade or more; others are brand new. Together, they make up a booming expert network industry.
Expert networks specialized by region
Many expert networks focus on a particular region, where they have a stronger footprint than others. Notable firms are pictured below. Firms like VisasQ and Mimir are strong in Japan, whereas Lynk, Nodes, Liahnson each cover different parts of Southeast Asia. Infomineo and Infoquest have a rare coverage of North Africa and the Middle East, as do Accurate Insights and Wivenn in Brazil. Europe has a number of firms with a particular strength in their home market, such as Colift and EPH in Germany, Xperts Council in France and Prosapient, Arbolus and Focal Fact in the UK.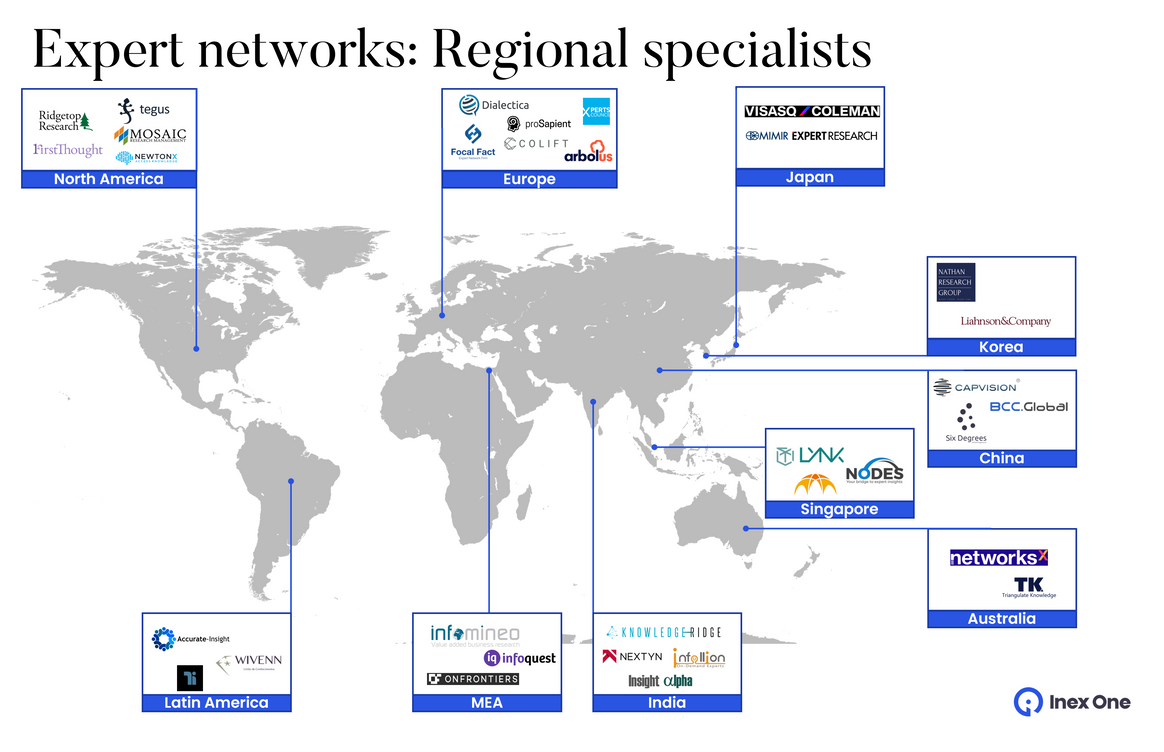 Who are the customers of expert networks?
Expert networks started out in the early 2000's with serving the hedge fund community. The services were soon in demand also in the wider financial industry, reaching private equity firms, asset managers, banks and consultants. We estimated that about 4,500 firms use expert networks in early 2022. The market is driven by a few fundamental trends:
Increased supply - as more experts can be found online, and are increasingly open to the concept of micro-consulting.

Increased demand. 1) A fenomenal growth in private equity assets under management fuels spend on deal analysis by both PE firms and the consultants that they engage. 2) Corporate strategy teams are increasingly accessing expert networks to inform their decisions. 3) Market researchers have been repeatedly upset by mediocre B2C sample quality. They increasingly shift their attention and spending to the qualified B2B respondents of expert networks.

Firms that predominately serve consulting and PE firms (e.g. AlphaSights, Dialectica, VisasQ and Prosapient) are among the fastest-growing in the industry, compared to firms with a larger asset management business (e.g. GLG, Ridgetop and Coleman). That said, these same firms seem to have taken the biggest hit as consulting spend dropped off in 2022.
In recent years, the asset management segment has also shifted part of their spend to content libraries, driving strong growth in Third Bridge Forum, Guidepoint Insights, Tegus and Stream.
We split the market in four broad segments: consulting, asset management (including hedge funds, long only funds, SWFs, IMs and family offices), private equity, and corporates. In 2021, we estimate consulting to be the largest segment at 33%. For further detail, you may purchase the 2023 market sizing dataset here.
What is next for expert networks?
The expert network industry is continuously evolving. Since we discussed industry consolidation v. fragmentation in 2018, the fragmentation case has had the upper hand. Fears that the industry reaches maturity come and go as the industry swings from frantic growth to temporary (?) slowdowns.
The industry has kept growing through multiple economic cycles and crises. However, competitive pressure is evidently mounting for the large incumbents:
Firstly, the ease of finding experts attracts new entrants to the market. This risks creating a fatigue both among experts (receiving too many identical requests) and among clients (receiving too many similar sales pitches), and margin-eroding competition as indicated in the GLG S-1.

Secondly, Inex One enables a more efficient market, driving business to high-performing expert networks, away from legacy operators. These firms are often specialists on certain geographies and industries, giving superior service quality to their clients.
At Inex One, we're excited about the growth of the expert network industry, and our contribution to making it efficient. Do you want to be part of this change? Contact sales or visit our careers page.