14 Apr 2022
Expert networks in 2022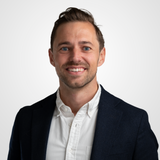 Max Friberg
CEO at Inex One
What's happening in the expert network industry in 2022? I often get this question from people in and around the industry - entrepreneurs, operators, investors, and clients. These are the main topics that I hear about:
Continued growth. We're coming out of a year of explosive growth for expert networks. We expect the expert network industry market to surpass $2 Bn in 2022, driven by (1) the build-up of private equity capital to be deployed, and (2) corporate strategy/M&A teams adopting the use of expert networks. Also, some headwinds are mounting, and we'll discuss them later in this article.

To IPO or not to IPO. GLG made a big splash when filing for an IPO in October 2021. However, end-March they withdrew the filing and every expert networker is guessing why. VisasQ went public in Tokyo at the start of the pandemic, Capvision is preparing an IPO in Hong Kong, and Alphasights may also be considering it.

So much dough. Expert networks have record amounts of cash at hand, after raising record amounts of venture money in 2021. Some of the more notable fundraises were Third Bridge, Atheneum, and VisasQ's public fundraising as they acquired Coleman. Get the full list of all expert network financing events here.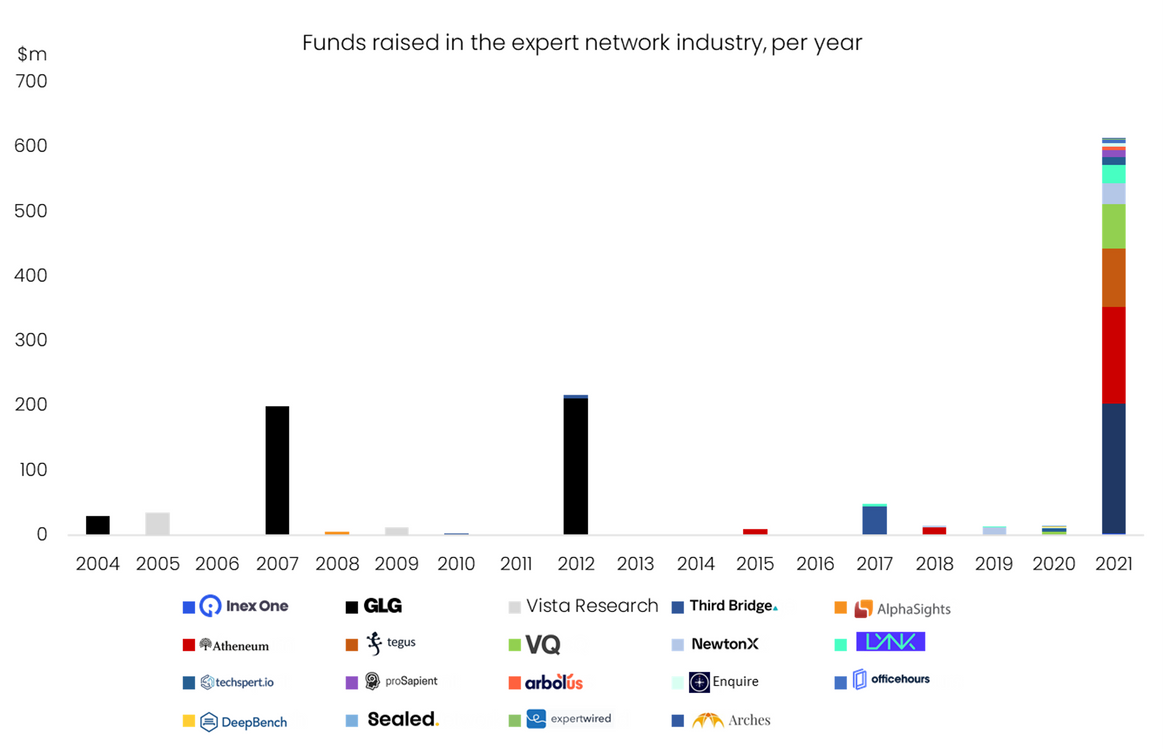 New product innovation. While the talk of A.I. in expert networks has been dialed down in recent years, ENs keep investing in tech and new product innovation. The main themes here are:

A. Specialization. Expert networks set up dedicated sector and geo teams, to better serve specific expert audiences and client groups. E.g. FirstThought, Techspert, and Atheneum specialize in healthcare; VisasQ, Six Degrees, Nodes, and NetworksX in Japan, China, Southeast Asia, and Australia respectively. Many expert networks have struggled with retaining employees beyond year 1. I think that a career path to specialization is more fulfilling for expert network employees, than being forever generalist. Becoming a well-connected industry expert yourself improves your work enjoyment, job status and future career prospects. For comparison, large consulting firms like Bain expect people to specialize as they advance in the firm.

B. Improving expert databases and "knowledge graphs". Acknowledging the limited value of traditional expert databases, some expert networks are enriching expert profiles with more information to improve searchability. Examples here include Third Bridge asking its experts which vendors & clients they've had in recent roles, and networks adding experts' survey replies to their database profiles.

C. Aggregation. Users manage multiple expert networks in one portal. Inex One is the market leader, supporting more than 250 organizations and 25+ expert networks. Three years after launching, our users already include seven of the top-10 strategy consulting firms, Fortune-500, and global private equity firms. They get the benefit of multiple smart expert networks, in one portal, under one contract. Prosapient and Lynk Global are two expert networks that also offer aggregator solutions, although they've struggled with being both player and referee. Besides Inex One, the only other independent aggregator solution is Consverge, launched in 2020.

D. Content libraries. Pioneered by Third Bridge, now also Guidepoint, GLG, Stream, and notably Tegus have an attractive proposition, where they interview experts and sell the transcript to multiple clients. Clients are typically charged $10-25k/user, and get access to all transcripts in the library. This offering appeals primarily to public-market investors. The reason? Most public-market analysts track a large number of stocks, meaning every stock is being followed by multiple analysts. Lots of analysts will care about e.g. the recent thoughts of some senior dude at Evolution Gaming. I expect content libraries to depress expert network call volumes and margins in the hedge fund/ asset management segment, as "reading a transcript" replaces some 1-on-1 expert calls.

On the contrary, private equity-owned companies trade just twice per decade at most, and investors (or operators) have more defined investment focuses. Also, most expert interviews cover "hot trends in the market", which evidently doesn't have a long shelf-life. Consequently, content libraries are less attractive to PEs, corporates, and strategy consultants, who instead prefer doing their own expert interviews. Many of these firms use Inex One to build their proprietary content libraries, getting free transcripts of all interviews they do themselves.
What's next for expert networks? My predictions.
Continued growth, driven by underlying growth in the private equity industry and corporate M&A volumes. Additionally, more firms beyond the financial services industry begin to use expert networks for their market research. However, mounting headwinds include geopolitical conflict, interest rates, and regulation. We hear of some decreased deal activity for European private equity and strategy consulting firms. One bellwether might be the number of new IPOs, which in Q1 were down to pre-pandemic levels. Expert networks still post many new jobs, although the numbers plateaued in the last quarter.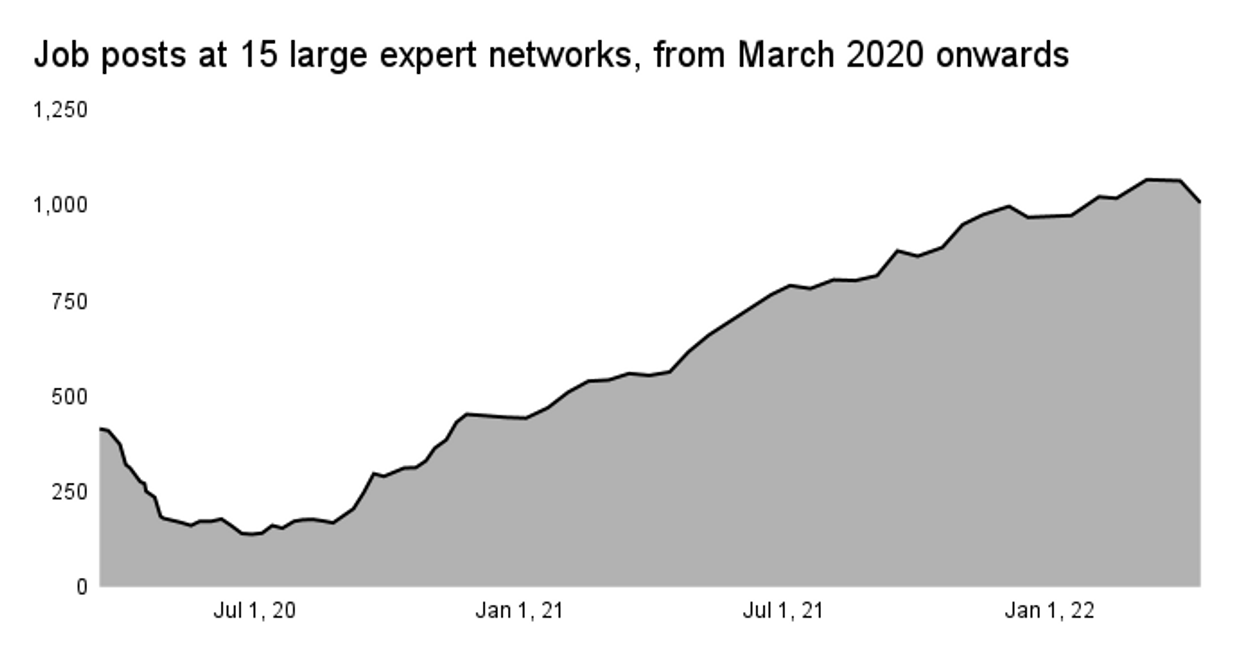 At the end of 2022, at least three of the top-10 strategy consulting firms will have implemented an aggregator as the default way to access expert networks. These firms have the most to gain, ranging from getting experts faster, better control of data/ compliance, and simplifying billing.

I think that GLG will transact, whether in the public or private markets. That would be the first major exit for an expert network and a boost of confidence in the industry.

I expect Capvision to go public and, flush with cash, seek to acquire a mid-sized expert network that complements its strong Chinese operations. Capvision mentions (prospectus p152) that they'd be looking at firms in Southeast Asia (excl. China) and the United States with 100k+ experts in their databases. Looking at the expert network market map, relevant candidates might include e.g. Lynk Global, Prosapient, Primary Insight, or even Atheneum.
Lots of excitement in the sector - let's see where this year takes us. We'll revisit this post next year, to see if our predictions were correct. If you want to do your own research - get started here!