20 Apr 2020
Expert networks and Covid-19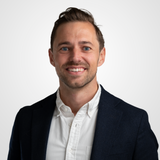 Max Friberg
CEO at Inex One
Market
Tools and best practices
How are expert networks affected?
The coronavirus pandemic is a shock for individuals, workplaces and communities. After a historic bull market, global equity markets are down 20-30% in a month, and the threat of a recession looms. Here's what Covid-19 could mean to expert networks:
Demand-side shock, particularly for networks focused on Consulting and Corporate clients.

Reduced hiring among expert networks.

Increased competition on remaining projects.

Increased focus on productivity within expert networks.
Expert networks and demand-side shocks
Expert Networks are high-end service providers. Their clients come in five broad categories: Banks and asset managers, Corporates, Private equity firms, Hedge funds and Strategy consulting firms.
Although each segment reacts differently to the current conditions, there are three broad themes:
Private equity firms refocus on saving their portfolio companies, reducing time spent assessing new deals. The US' initial relief schemes excluded most PE portfolio companies. This means more relief funding work for the PE owners.

Hedge funds (in particular credit and special situations) are busy assessing opportunities in the volatile markets. Both hedge funds and other asset managers will reassess long-term theses and strategies.

Consulting firms reduce their spend on expert networks drastically. This is driven by a general cost-focus, and a drop in corporate M&A and private equity deal volumes. Most corporates and banks also limit external spending (pharma/life science corporates being an exception).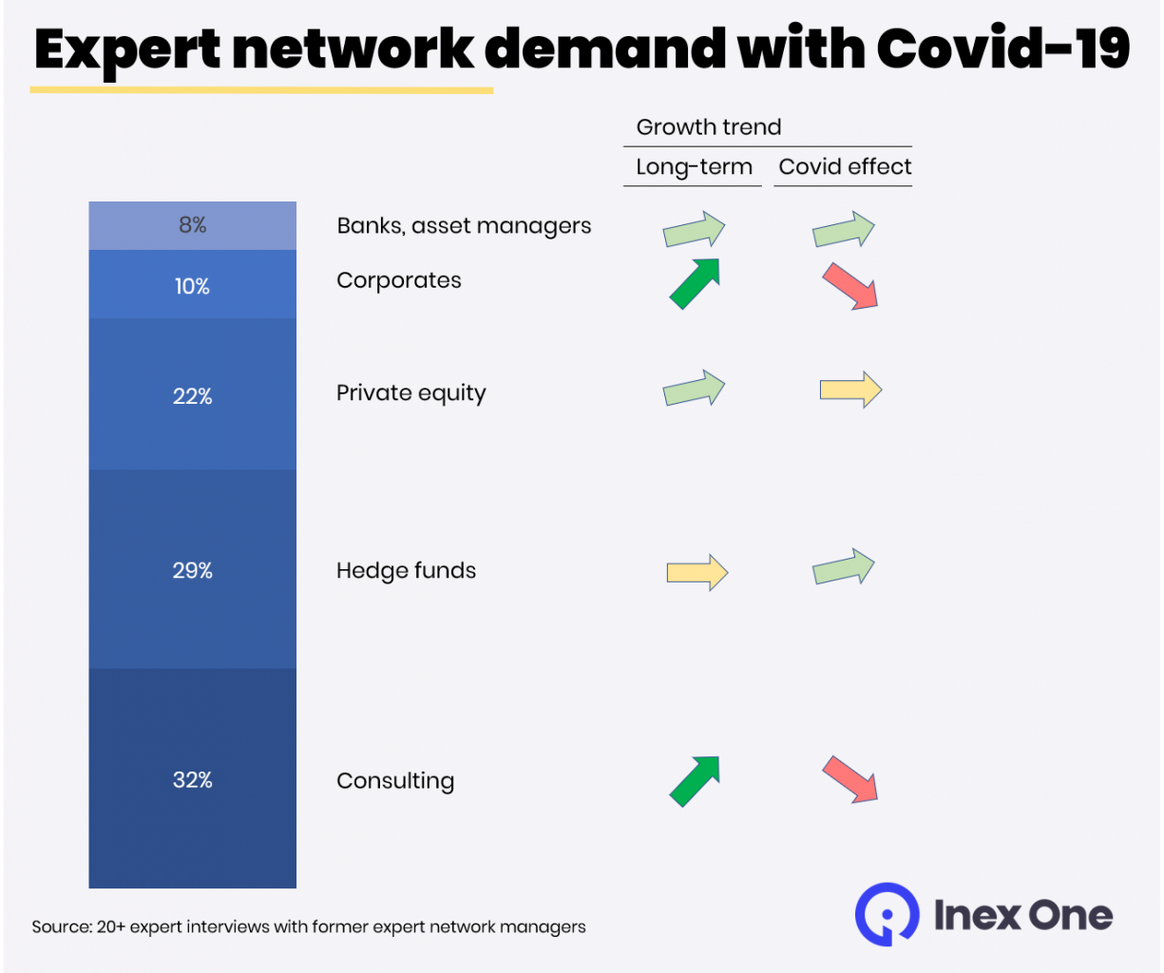 Consequently, expert networks are affected differently, based on which client segments they serve. Expert networks highly dependent on consulting firms (e.g. Alphasights, Dialectica and Prosapient) will likely see a steeper demand drop than firms more focused on hedge funds/ asset managers (e.g. Coleman, Primary Insight, Ridgetop and Silverlight).
How can expert networks respond?
Expert networks have eight main levers to pull, to improve their operating profit (pictured below). The demand-side shock hits project volume. It makes revenue-side levers less potent, as current and prospective clients seek to reduce their expenses rather than increasing them. Correspondingly, the cost-side levers are more relevant to act on.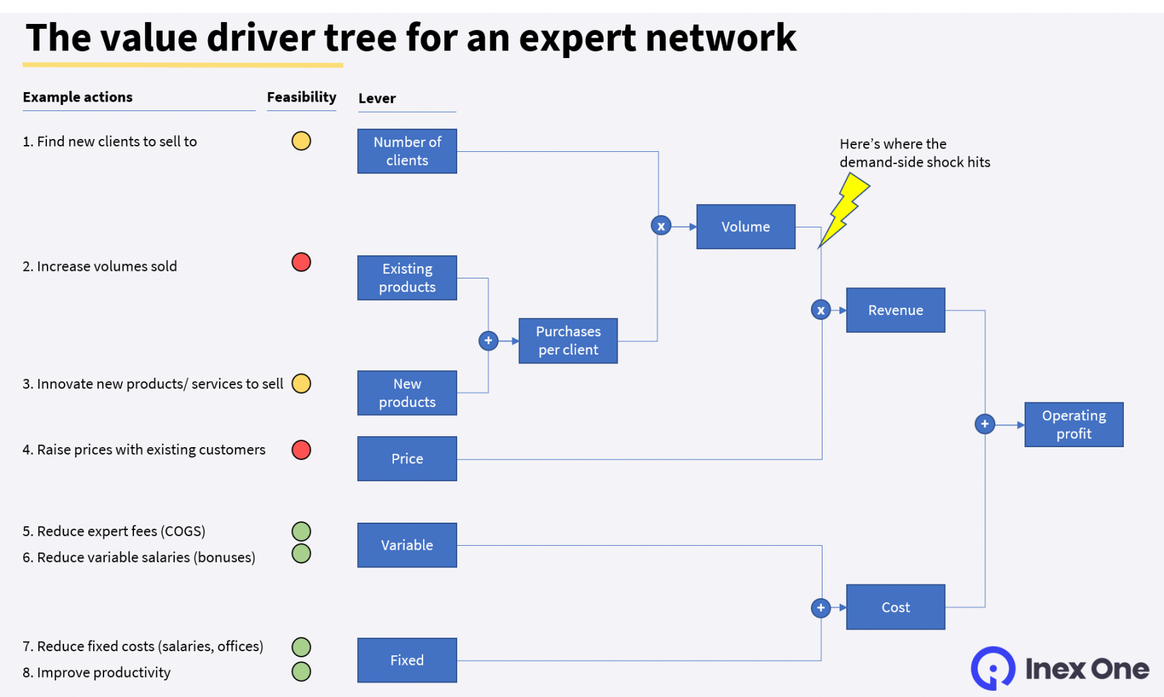 Looking closely at the cost levers:
Variable costs: Expert fees (COGS) and Variable salaries (bonuses) drop automatically as fewer calls take place. This acts as a cushion, reducing total costs when business volumes are down, offsetting part of the reduction in operating profit. Interestingly, expert networks with a high share of prepaid contracts (as opposed to pay-as-you-go) might see their operating profit increase in the short term. Their revenues remain fixed in the short term while expert fees and variable salaries drop.

Fixed costs in expert networks are mostly base salaries and offices. Many expert networks froze new recruitment at the onset of the crisis. Some have even had to let go of employees.

Improving productivity means working more efficiently and generating more business per employee. In the short term, productivity is likely to decrease as people adapt to working from home, or due to illness. In the medium- to long-term, here's a golden opportunity for our industry.
Improving productivity
Reduced project volumes cause increased competition on the remaining projects. Understanding where to focus your time and resources is critical to success, for both small and large expert network firms. You only have so many hours in a day – how should you allocate them?
When we speak with expert network staff, their most common pain point is not knowing which projects they should prioritize. The Inex One project analytics is part of our ambition to improve productivity in our industry. Optional to switch on for clients, it gives expert networks transparency on the projects they work on. Networks can thus allocate their time to the most important and valuable projects. This reduces wasted efforts and improves the likelihood of arranging expert calls. Increased productivity for expert networks means improved service quality for their clients.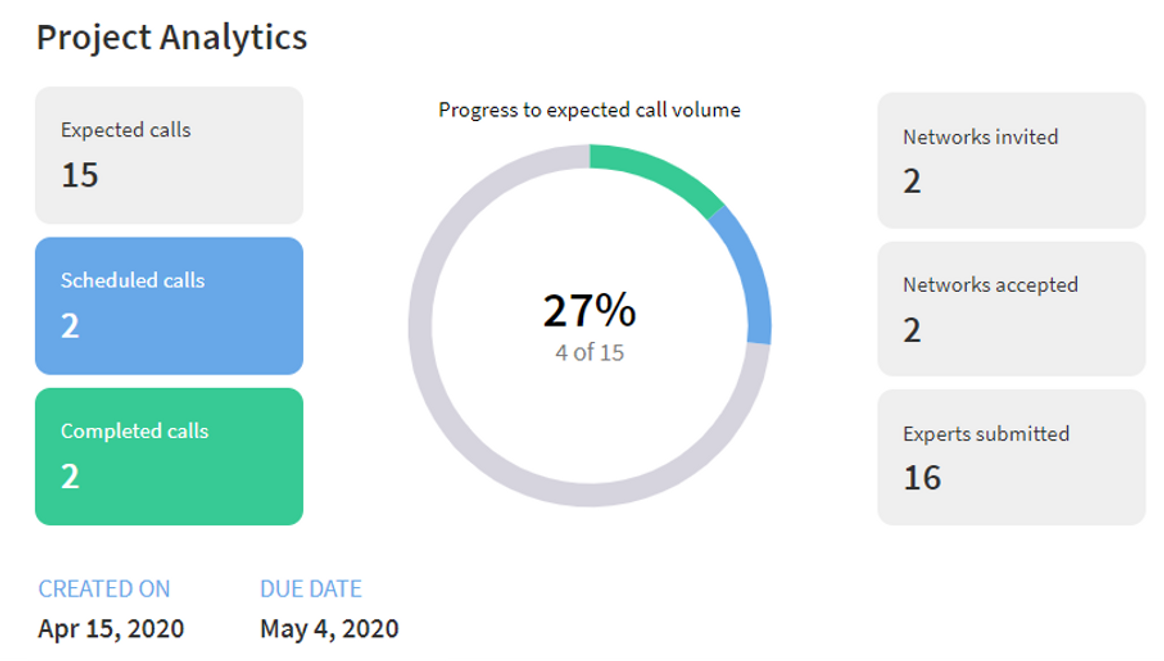 For example – an expert network manager receiving a project email from a client doesn't know if she's the first to receive it, or if the project has already been running for weeks. Most likely, other networks were invited, but it's hard to know if there are 2, 4 or 8 others.
The Inex One project analytics improves productivity in the expert network industry, to the benefit of both clients and expert networks. Due to the impact of Covid-19, Inex One is offering an extended 90-day free trial for clients. Sign in here or contact sales.
This piece is written in collaboration with Tyrone Croome-Carroll, a former Vice President and leader at AlphaSights APAC.
Do you work in an expert network, or have some market insight to share? Please contact Max here.