22 Feb 2023
How do Expert Networks operate?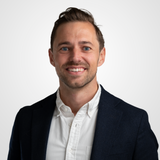 Max Friberg
CEO at Inex One
Expert Networks help people who seek expertise connect with the people who possess it. They do this at a global scale, across all countries and specializations. There are more than 100 expert networks globally, offering 6 types of expert network services. These all revolve around the core activity: identifying relevant experts on demand. This core activity is similar to headhunting, but with the difference that expert networks recruit for 1-hour consultation sessions rather than for full-time jobs.
Inex One is the marketplace for expert networks. We monitor every expert network, keeping track of which are most relevant for every project. You can access the 25 best specialized expert networks - with no fixed costs - on Inex One.
The expert network industry as we know it today emerged with Gerson Lehrman Group (GLG) in 1998 and boomed in the early 2000's with the emergence of additional players (including Alphasights, Third Bridge, and Guidepoint). It then took a double beating: first from the drop in M&A activity of the 2008 financial crisis, and then from a series of insider-trading scandals. 2010 to 2020 was a decade of booming growth, as expert networks surfed the wave of unparalleled private equity dealmaking. This success was interrupted only briefly by the covid-19 outbreak, and possibly more long-term by the decline in investment activity in 2022.
These are the six types of expert network services:
The core expert network business (calls, recruiting, meetings)

Expert network B2B Survey providers

Expert network consulting services

Expert network aggregators

Expert network transcript libraries

Expert witness services
1. Expert Networks: "The core business"
Most expert networks operate what we call "The core business". These expert networks rely heavily on the smarts and flexibility of their employees, who go to great lengths to find suitable experts for their customers. This requires hours of manual work, googling, and trawling career databases such as LinkedIn, Xing and Viadeo. The experts recruited are managed in internal databases and might be engaged in future projects.
Many expert networks automate the more repetitive parts of the associates' work (e.g. copying experts from LinkedIn, searching the database, sending personalized messages). However, the core business remains the same: having competent people recruit experts for ad hoc engagements.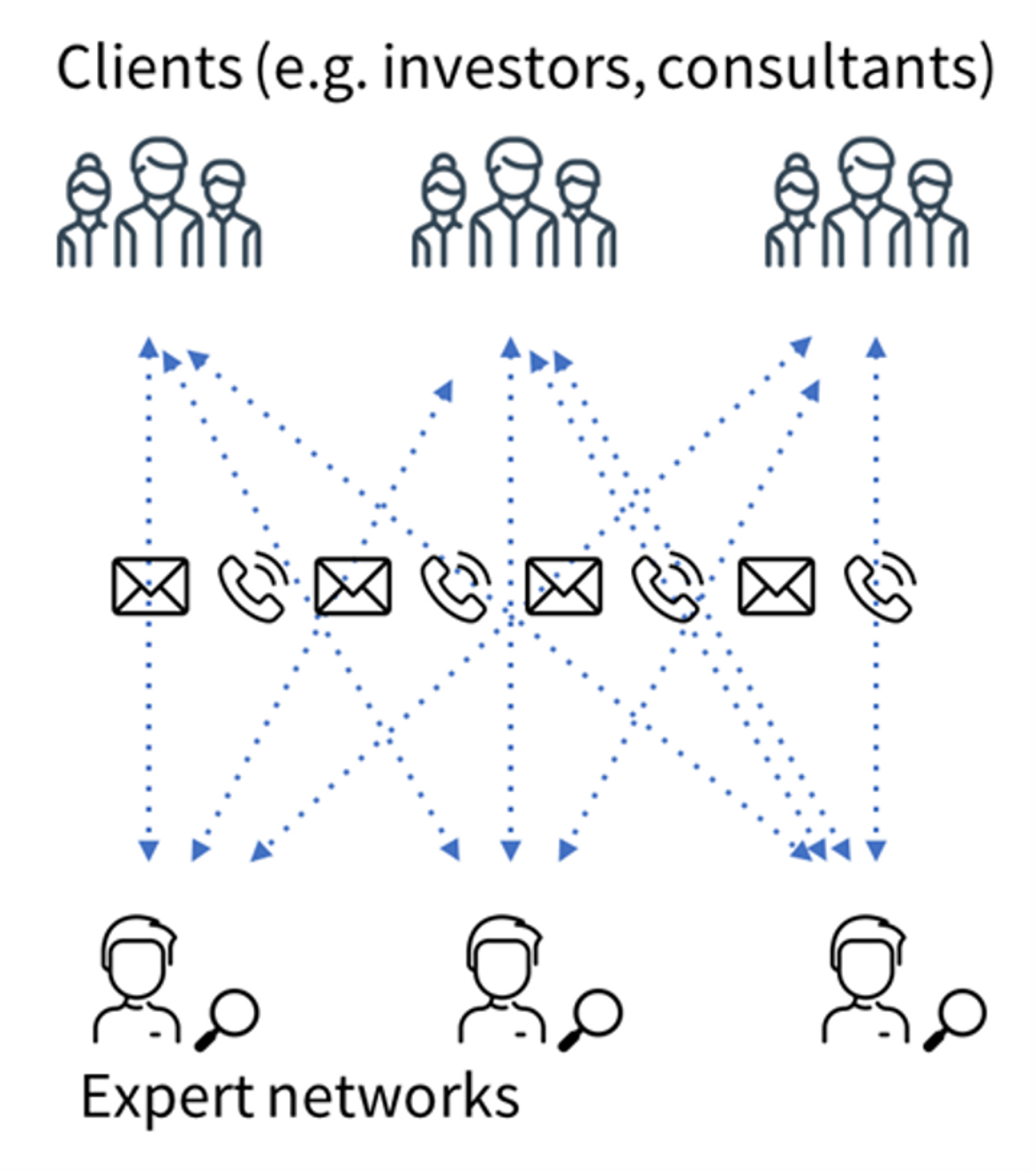 Many expert networks focus on a particular region or industry, where they have a stronger footprint than others. These firms specialize in one or multiple geographies or industries, developing an edge over the larger firms that seek to cover everything at ones.
In recent years, five business models have emerged that are adjacent to the core business. We'll analyze them one by one below.

2. Expert network B2B Survey providers
Investors use expert networks to get deep insights. Surveys are another tool to the same goal. adjacent service, often used in conjunction with expert interviews.
Expert networks accumulate plenty of experts, as they go about their core business. For every expert recruited for a call, they might speak to 10-20 others. Most of these become detailed profiles in the expert network's database. Over time, this database becomes an attractive, high-quality survey panel. Therefore, offering B2B surveys makes sense for expert networks as they achieve scale.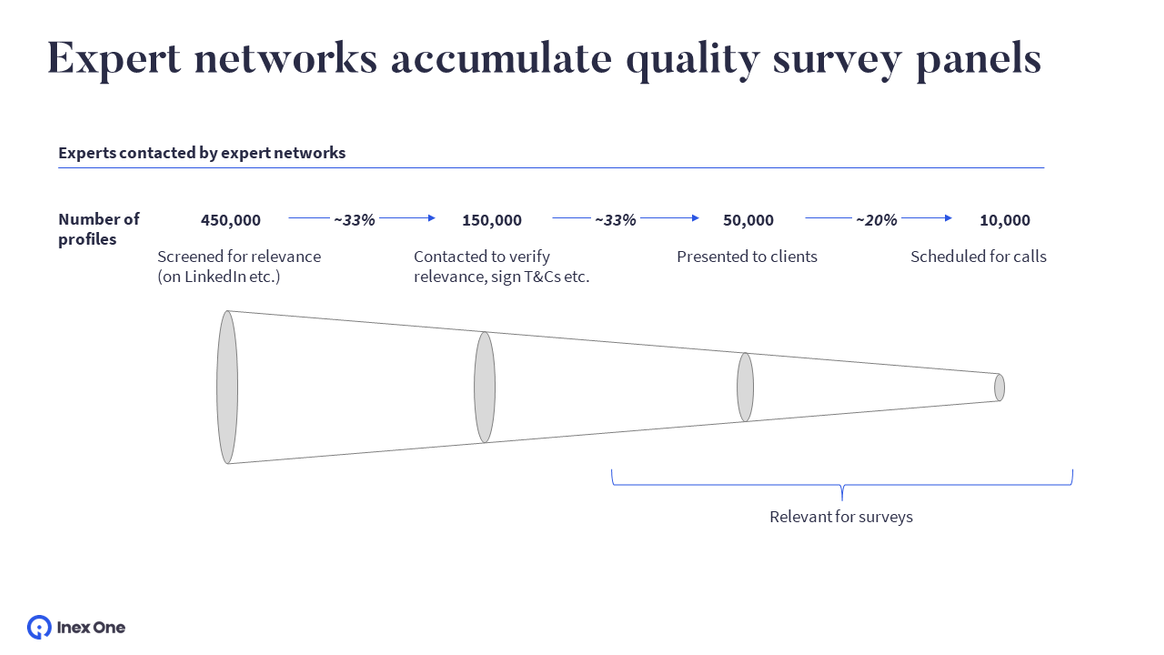 Expert networks are among the highest-quality survey panels, as respondents are interviewed and vetted. It wouldn't be feasible to get the same detail on respondents in a regular B2C panel, as the CPI is too low. However, expert networks get detailed respondents while going about their high-CPI core business. Once the database is in place (and kept fresh), it makes sense to monetize it also for surveys.
Consequently, you see most larger expert networks offer B2B surveys, with Third Bridge being a somewhat surprising exception. Conversely, some B2B survey firms such as Ivy Insights have branched out into expert networking.
We explained how the survey industry works last year, as Inex One launched a survey platform. Clients often struggle to find the right survey vendor ("Who should I use, what should it cost, how long should it take?"). With the Inex One survey platform, you can get multiple quotes and engage the best vendors in one dashboard.
With Inex One, you can do a full suite of primary market research – from expert calls to B2B surveys and B2C surveys – in one platform. Access the best vendors, compare quotes, and collaborate efficiently with your colleagues.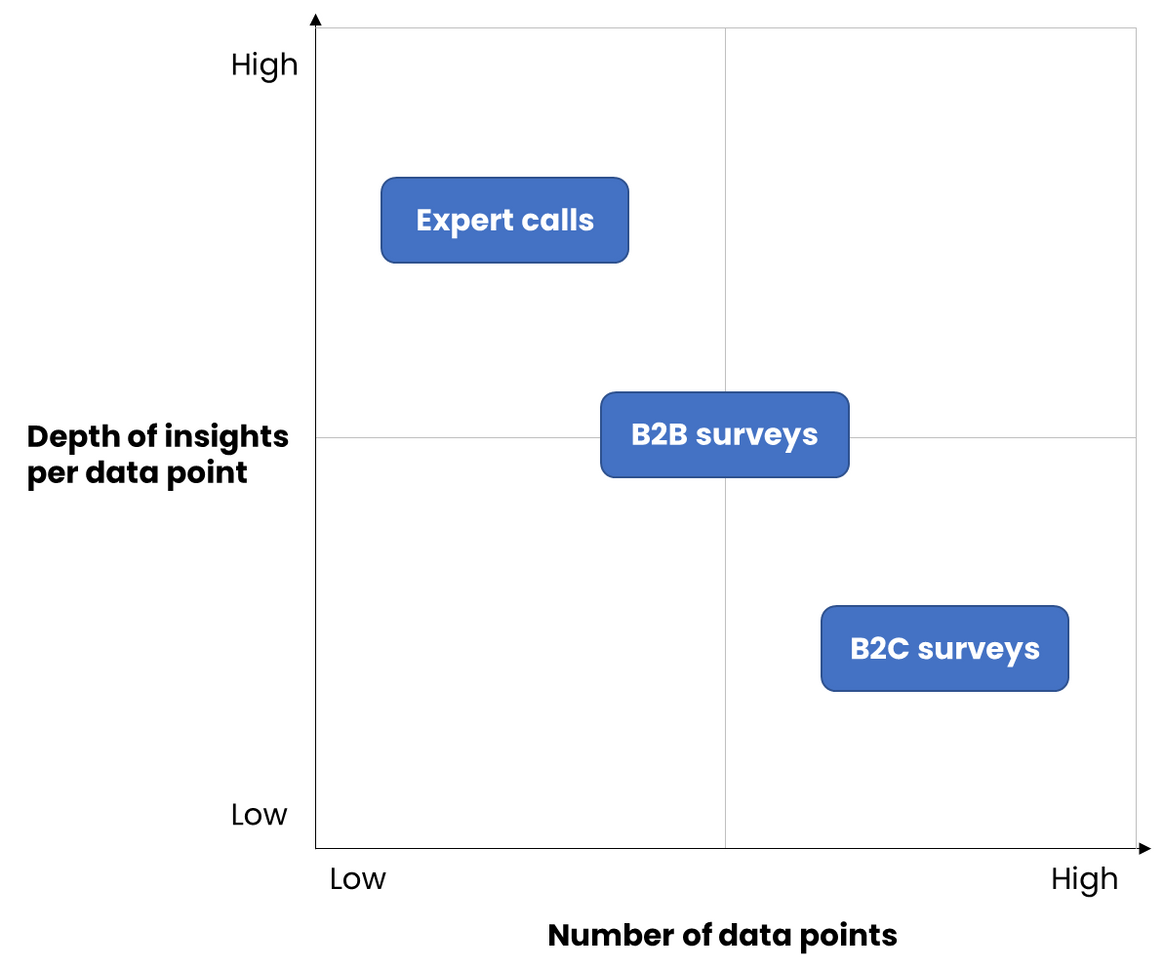 3. Expert network consulting services
Since the early days of expert networks, clients have found certain experts particularly interesting, and arranged longer project work with them. Sometimes the expert network would include a translator or note-taker. Such "breakout engagements" were always a minor part (<10%) of expert networks' revenues. But some expert networks made it a business of its own, in some cases
GLG has a consulting arm offering commercial due diligence, market assessments and corporate strategy projects. They engaged a team of ex-McKinsey consultants and a network of freelance consultants. GLG's consulting business has grown to the point where some large consulting firms reportedly considered it as a threat to their own Private Equity consulting. Consequently, some reportedly reduced their spending with GLG to not fuel a competitor.

Other expert network firms offering – less extensive – consulting services include Atheneum, Alphasights and Expertpowerhouse.
4. Expert network aggregators
Inex One launched in 2018, with the mission to build an efficient marketplace for expertise. The founding team had seen the inefficiencies in traditional expert networks and designed Inex One to solve them.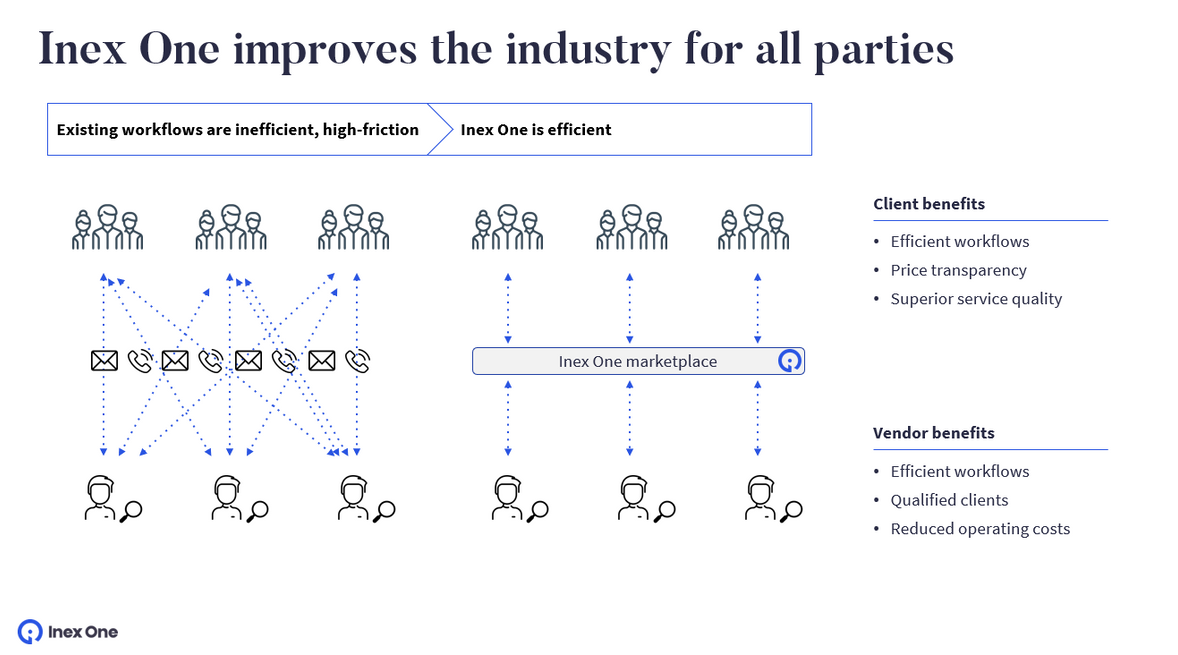 The concept is simple: to streamline workflows and help expert networks invest their time in the most productive way. This reduces costs and increases quality of service. While Inex One started out as an aggregator, it has since evolved into a marketplace. This reflects a dual focus on both clients and vendors, as opposed to a one-sided aggregator. At the start of 2023, Inex One supports 400+ clients and 25+ expert networks worldwide, seeing steadily growing business volumes.
Consverge started in 2020 as an expert network aggregator. The model differs from Inex One as Consverge's employees coordinate all the projects. Clients communicate with Consverge, who in turn speak with the expert networks. The company – founded by an ex-Third Bridge employee – has not gained material traction yet.
A few regular expert networks have also explored the aggregation model. Coleman, Prosapient, Lynk and Mosaic Research all built expert network aggregator software in recent years. Neither product has gained much traction, though. Each firm struggled with an inherent conflict of interests: being both marketplace and a vendor undermined other vendors' trust in them. At the start of 2023, both Coleman and Mosaic had canceled their aggregators, to focus on their expert network businesses.
To see why 400+ clients use Inex One, try it out here or book a demo.

5. Expert network transcript libraries
Expert network transcript libraries are online databases of past expert interviews. Expert network transcript libraries are mostly used by public market and growth equity investors. There are many market participants interested in the same asset, and it can be traded "any time". This makes every transcript relevant to a large enough audience to bear the costs for producing and hosting it. Conversely, content libraries are less relevant to private market investors, corporates and strategy consultants. Their research tends to be confidential and specific to their use case. Once a PE fund has acquired a company, they'll hold on to it for 5-6 years. During that time, other funds can't invest and therefore wouldn't read call transcripts about the company. And when it's time to sell, the 5–6-year-old transcripts are likely outdated.
Expert network transcript libraries come in two main types:
Managed content libraries. The library owner identifies "hot topics" that its clients are likely interested in. They employ analysts who in turn interview experts and publish the transcripts to the library. The main managed content libraries are Third Bridge Forum, Guidepoint Insights and the GLG Library. Smaller/ niche players include Alphasights' AlphaView, In Practise and CB Insights' Yardstiq.

User-generated content libraries. The library owner organizes expert interviews for its clients, and transcribes all calls for its library. The client pays a bit less per call, in exchange for having it published to the library.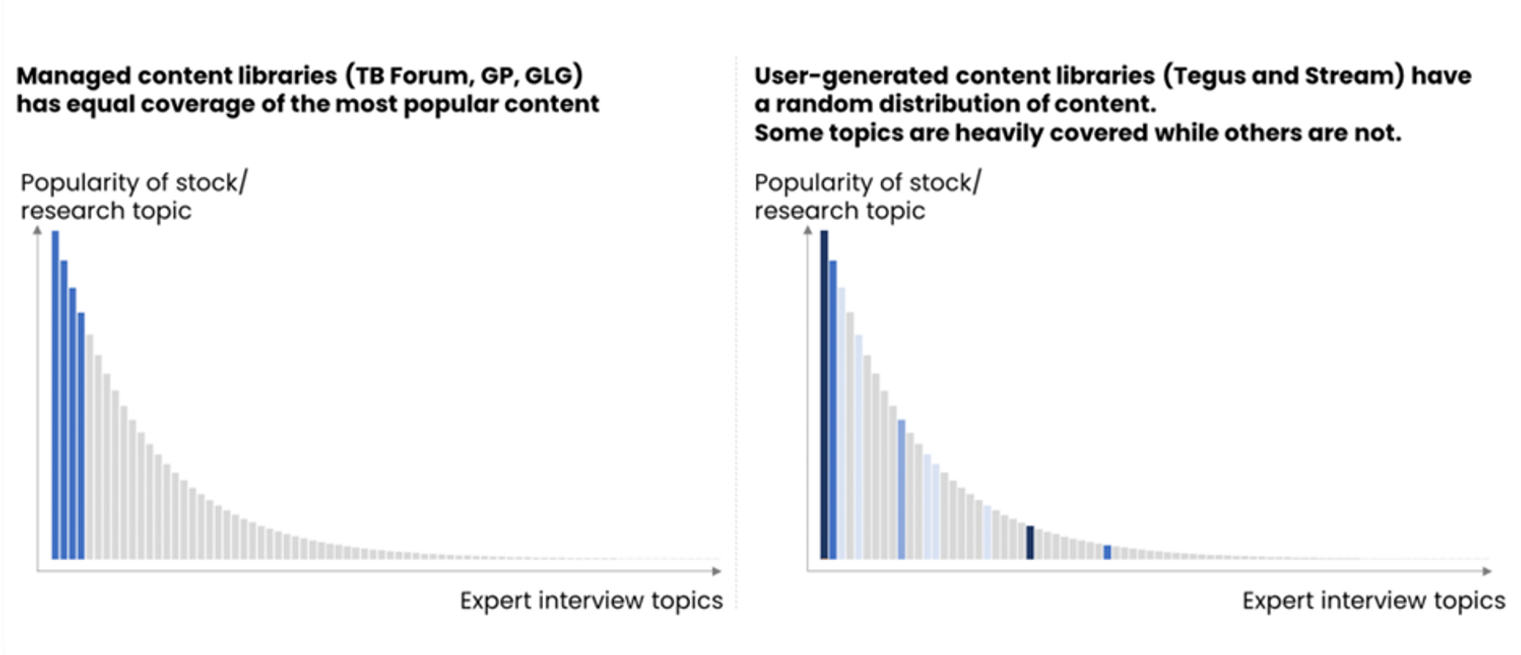 The two models increasingly blend, as both Third Bridge, Guidepoint and In Practise have launched user-generated content, while Stream complements its user content with their own hosted content.

6. Expert witness services
Parallel to the regular expert network industry – serving mainly strategy and investment professionals – there is a smaller yet thriving market for legal experts ("Expert Witnesses"). These firms deliver legal and medical experts, background checks and related services to attorneys at US law firms. Leading firms include IMS Consulting & Expert Services, The Expert Institute, and the expert witness divisions of GLG and Guidepoint.
How will the Expert Network industry develop?
The market for expert networks is the market for insights-on-demand. It stretches far beyond the "core business" into alternative business models. We believe the industry will continue to grow, driven by simple supply and demand:
Demand is growing. Global value chains are ever more complex, and companies specialize into niche segments. If you're looking to invest in a company that exports niche components around the globe, you probably want to research the local market conditions (competitive dynamics, regulatory trends etc.) in at least some of the largest regional markets (e.g. China, Japan, Germany, UK, and the US). Speaking with local experts is an efficient way to do this.

Supply is growing. More people make themselves available on online career directories, and people are increasingly open to "gigs". This makes it easier for expert networks to identify and recruit global experts.
There is merit to all expert network operating models, and there is likely room for multiple players to thrive.
Expert networks complement other research services
We will round off with a last image, showing what the Inex One team sees as a central trend in investment research. With increasing industry complexity, more sources of expertise are required to maintain a given level of industry insight.
Take Sweden as an example: in the 1950's our main exports were iron ore, paper, and pulp, to Northern Europe. Industry analysis and investment research was mostly done in boardrooms of, well, middle-aged men. Since the 1980's, rapid industrialization and growing global trade in subsequent years have been some of the factors behind the success of global management consulting firms. Management consulting is a complement to having full-time industrial advisors/employees, and the industry sees strong, sustained growth. In the last decade, the expert network industry has grown rapidly. The industry is in turn a complement to what came before it, as it is used by both consultants and regular corporations.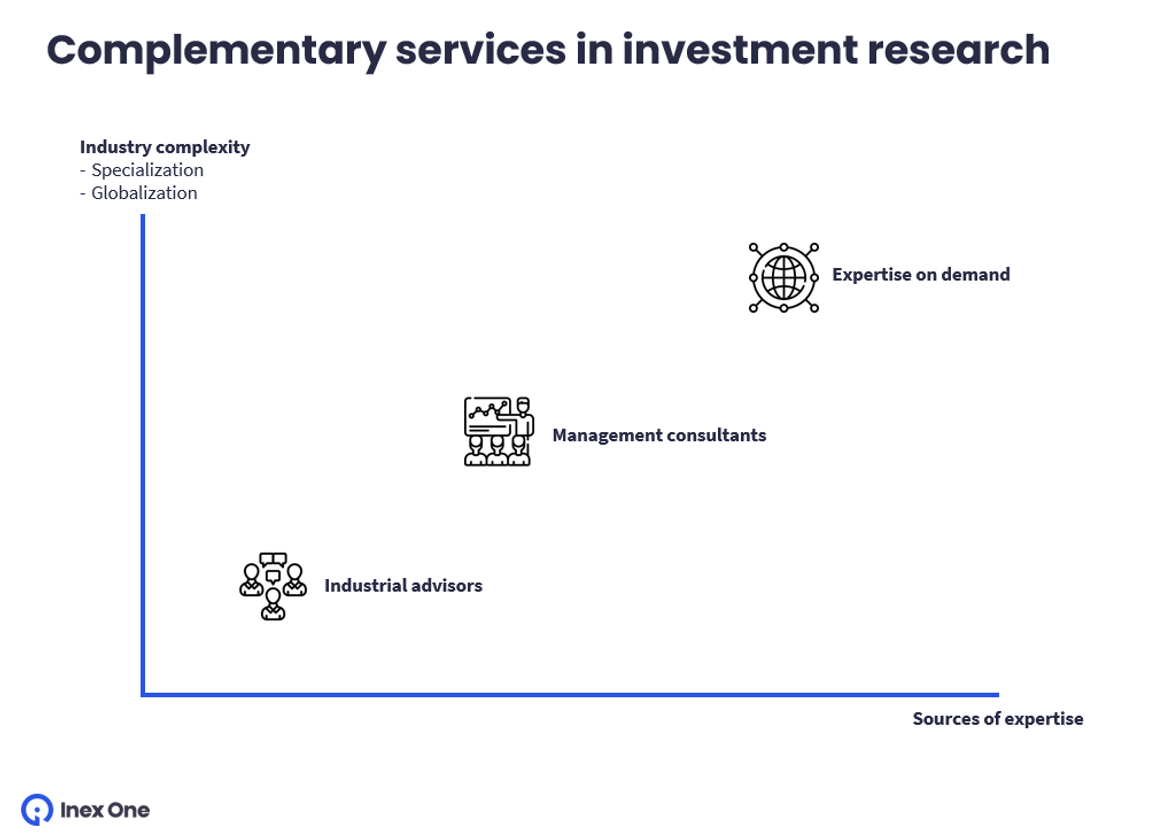 Inex One helps you gather all your expert networks in a single platform. We believe it's a logical continuation to the trend, and the future of the expert network industry.
Click here to get started with Inex One, or book a demo.