19 Jun 2023
How do I run a due diligence survey?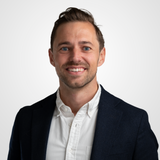 Max Friberg
CEO at Inex One
Tools and best practices
Surveys
A consultant friend asked me this the other day. It was a deja vu moment: I once asked the same thing myself. We've learned a few things since then. Here's what my strategy consulting friend asked:
How much does a survey cost?

How do I choose the right survey vendor?

How do they find the right respondents?

How long does it take?
Let's walk through the answers, one by one:
How much does a survey cost?
I've seen survey prices range from $3k to >$100k, with most in the $10-15k range. The price depends primarily on four factors, in order of importance:
Sampling method (B2B or B2C panels)

The profile and type of respondents (a CEO will normally be more expensive to survey than a plumber)

Your need for add-on services such as translations, survey programming, and analytics.

The length of your survey (often called 'LOI')
The sampling method is how you reach respondents. It has outsized importance for the cost of your survey. You typically pay an incentive to survey respondents (to make them take the survey), and a fee to the survey company (to identify the right respondents).
There are two ways to reach respondents: (a) using online panels, and (b) targeting specific individuals.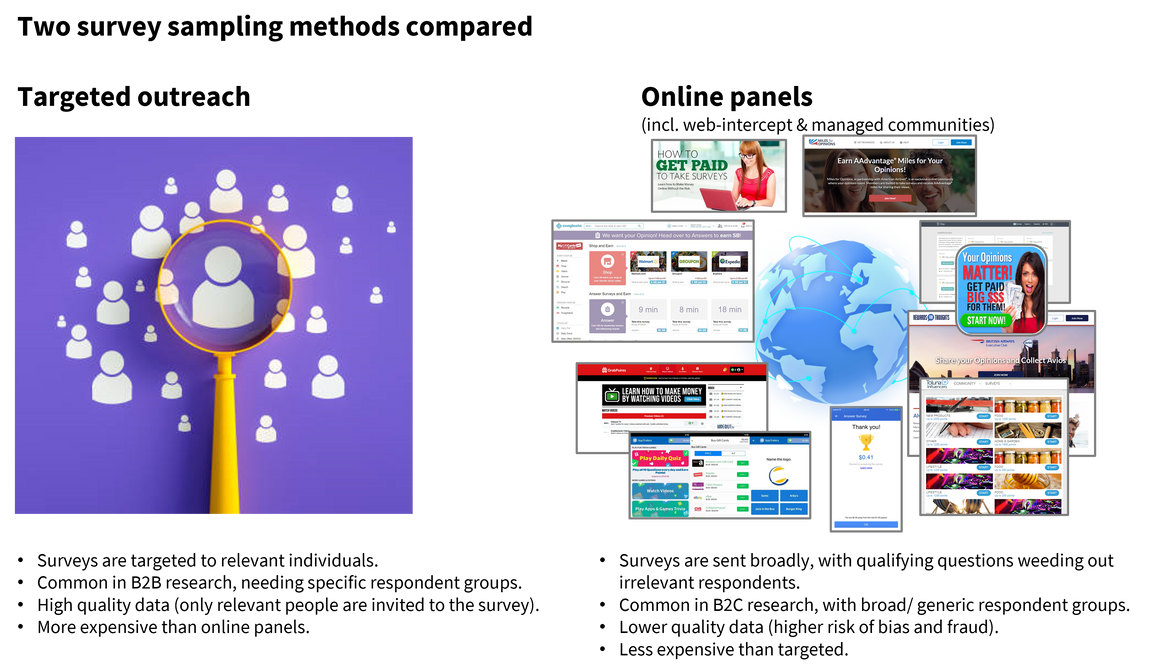 Different survey sampling methods are good for different purposes. Simplistically, go for targeted outreach if you have a niche/ hard-to-reach audience (that have a "low incidence rate" in the general population). Conversely, use online panels if you're researching a broader set of consumers. See our comparison of survey sampling methods for more detail.
How do I choose the right survey vendor?
Nobody knows lol.
When I was a consultant, my project manager Carl asked me to find a good survey vendor for a project. The firms he had used were, in his words, "clunky and expensive". I asked Google and got something like this 🫠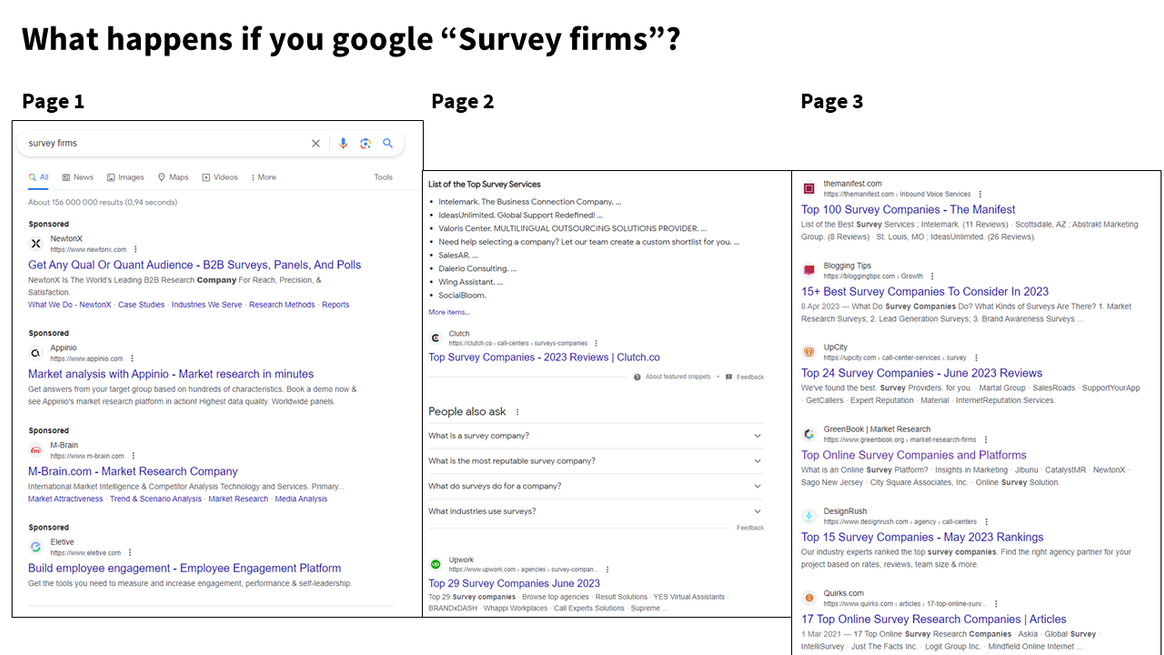 So we ended up using some survey firm that Carl had used before. It felt like this: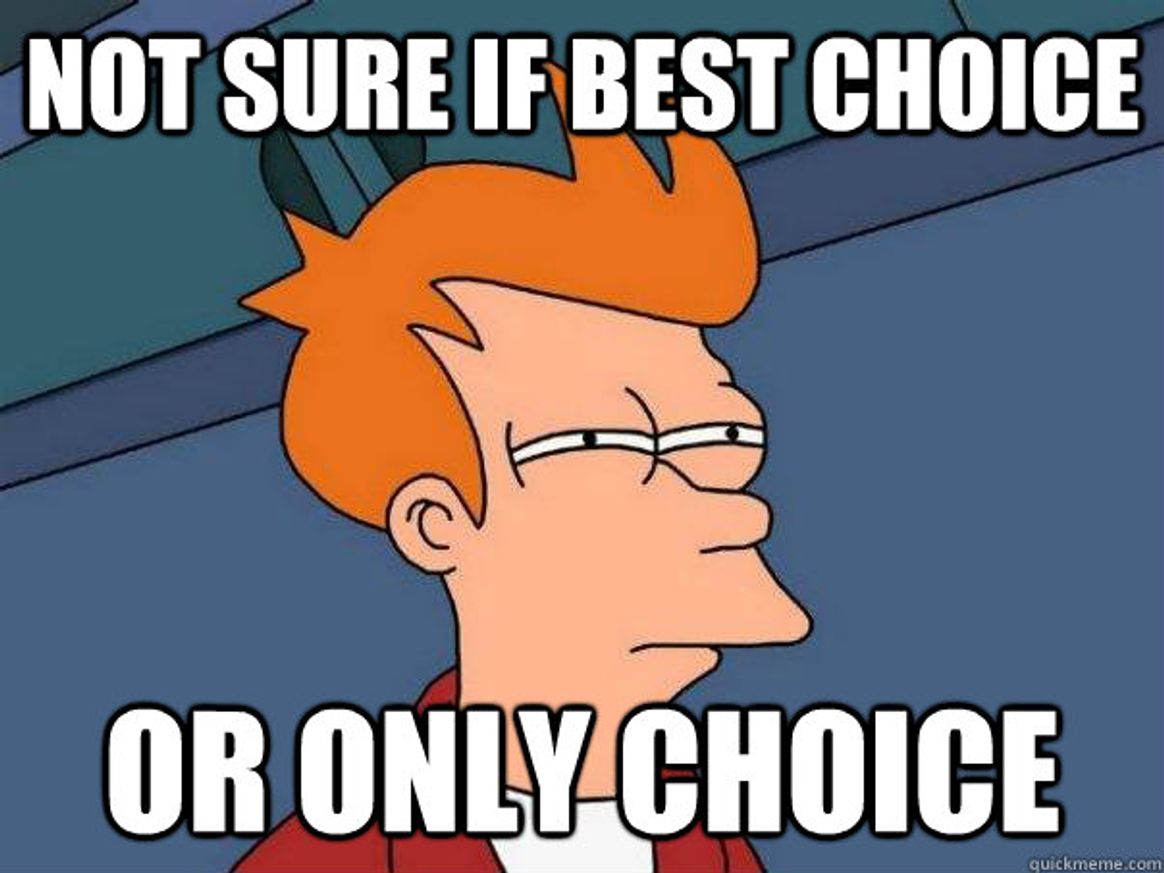 Fast-forward a few years, and Inex One launched the Survey Marketplace. You can now RFQ the world's best survey firms and compare pricing/ timeline and feasibility - in one platform. Inex One continuously monitors all vendors for quality and compliance, making sure that you have the best firms at your fingertips.
Want to see how it looks? Book a demo or Get started top right on this page!☝️
How do survey firms find the right respondents?
Finding respondents is called "survey sampling" in industry lingo. There are two ways to do so:
Online panels (incl. web intercept and communities). You send the survey to many people and let them determine if they're relevant to take it, by answering qualifying questions. This is most common for consumer surveys.

Targeted outreach. You send it directly to the people that are relevant to take it. This is most common for B2B/ professional surveys.
Regardless of sampling method, you should include qualifying questions to make sure the right people take your survey. Therefore, the survey design is key to target the right audience and receive reliable, high quality data back. There are pros and cons with both options for survey sampling. We compare survey sampling methods here.
When you run a survey on Inex One, you work with top-quality survey providers. They are professionals in both survey design and helping you choose the right survey sampling method.
How long does a survey take?
Running a survey typically takes anywhere from a week to a month, for the strategy and investment teams that use Inex One. Sometimes it can be run faster, while sometimes you run it for longer. The time needed depends on what audience you are targeting (and their availability), the sampling model and the survey vendor that you choose.
The Survey Marketplace lets you get bids from multiple survey vendors, so that you can compare and choose the one that is most appropriate for you.
How do I launch a survey?
The easiest way to launch a survey is on Inex One. You get access to the best survey providers in one portal, and help with scoping and designing your survey if needed. This helps you to get an optimal survey quality, price, and speed of delivery.
Launch your survey here, or click here to discuss your research needs with our team.