14 Apr 2021
A Tale of Two Consultants (and their adventures in the expert network wonderland)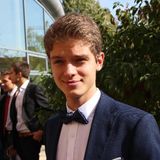 Gediminas Goda
Customer Success Manager at Inex One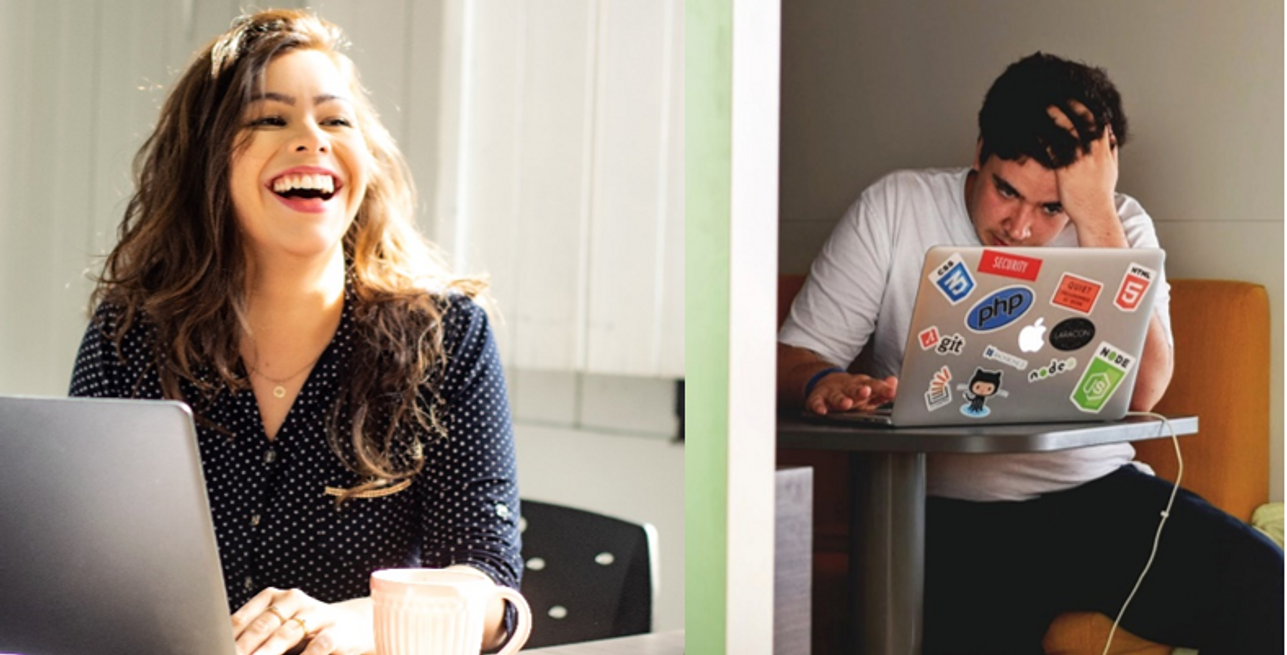 Miguel and Angelica are associates at a top consulting firm. On a Monday morning, they both start working on new due diligence projects which will involve expert interviews. Miguel and Angelica are colleagues but have different habits when it comes to working with expert networks. Miguel relies on three legacy networks: GJG, LeadPoint and BetaSights. Angelica prefers using Inex One, the Expert Network Marketplace.
Launching the request and inviting the expert networks
Miguel and Angelica have a free moment after their "time-efficient" lunch break 🥪. They sit down at their desks to activate the expert networks.
Miguel writes a project brief and sends it in three separate emails to his account managers at the legacy networks. He realizes that he forgot to include an example company into the brief and sends three more emails with an update. After half an hour Miguel receives three calls from the expert networks – they are all asking the same questions. After the third call, Miguel already wants to take a nap… but (as you might know from experience), consultants usually don't have time for napping! 🥱
In the meantime, Angelica logs onto the Inex One platform and writes her project brief. Based on the project details, Inex One recommends Angelica the best networks to work with. She publishes the project, and all the networks receive the brief immediately.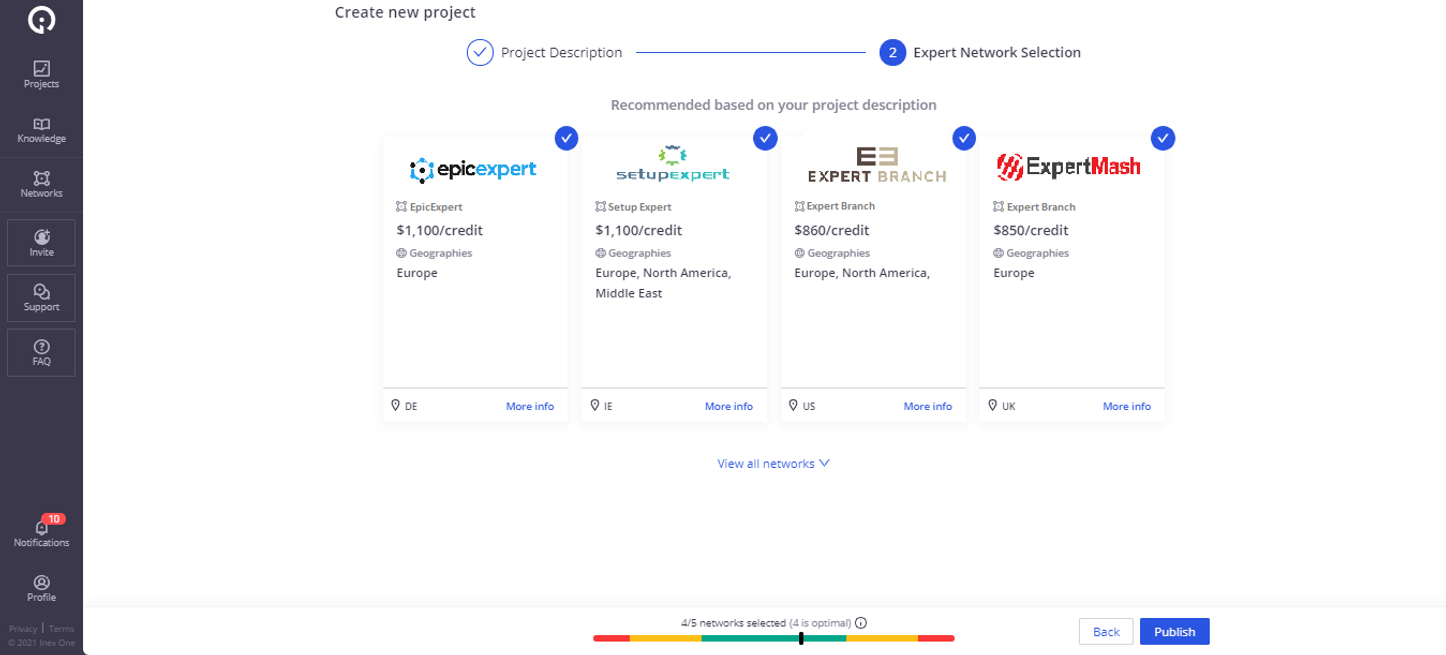 Over the platform chat, one expert network asks her to clarify a tricky aspect of the project. Angelica quickly updates the project brief and all the expert networks are notified about it immediately. The search for experts has started, Angelica has time for a quick cup of coffee. She can hear Miguel angrily talking on the phone in his team room. He is explaining it to the third expert network in a row that he is only interested in former employees of focus companies.
Receiving the expert profiles
At 7pm Miguel starts receiving the expert profiles from the legacy networks. He gets three Excel spreadsheets, each with a different format. He is trying to somehow merge them into one spreadsheet to make the expert bios comparable. He emails his Excel origami to Jessica and George, his team members. They both add comments and send the spreadsheet back to Miguel. Miguel slaps himself in the face and starts merging the comments, when all of a sudden LeadPoint sends him an updated spreadsheet, where half of their experts have changed...
Angelica receives the experts from all the networks in one dashboard on Inex One. She can easily compare the bios, flag duplicates, add priority ratings and comments.

She invites her teammates Xi and Abhijeet to collaborate on the project. They comment directly on the expert bios, group the duplicates, and download a list with all the expert profiles which they will present to their client tomorrow. It's 8:30pm and Angelica calls her boyfriend to tell him that they can have a late dinner together. He says he would get their favourite Vietnamese take-away and meet her at home at 9 o'clock.🥡
Miguel sighs loudly and opens Uber Eats on his iPhone…📱
Scheduling the calls
By Tuesday afternoon, both Miguel and Angelica have selected the experts they would like to interview. Miguel emails all the three networks and asks them to schedule calls with the experts. He told GJG that he would like to schedule a call with a former VP at Rio Punto but then realized that this expert was in fact provided by BetaSights. A few more emails follow to fix this mess. One network calls him to ask if they could schedule a call for 3pm on Thursday. Miguel says yes, but then notices that a client meeting just got scheduled for that time. He calls the network and reschedules. Miguel starts developing a certain antipathy towards his work phone 😐.
Angelica goes onto Inex One and requests calls with the experts her team has selected. She provides her availabilities for the upcoming days and sees whether they overlap with expert availabilities. The expert networks quickly schedule the calls for the times when Angelica's and experts' free time slots overlap. Angelica and her team receive standardized system-generated invites for all the calls 📅.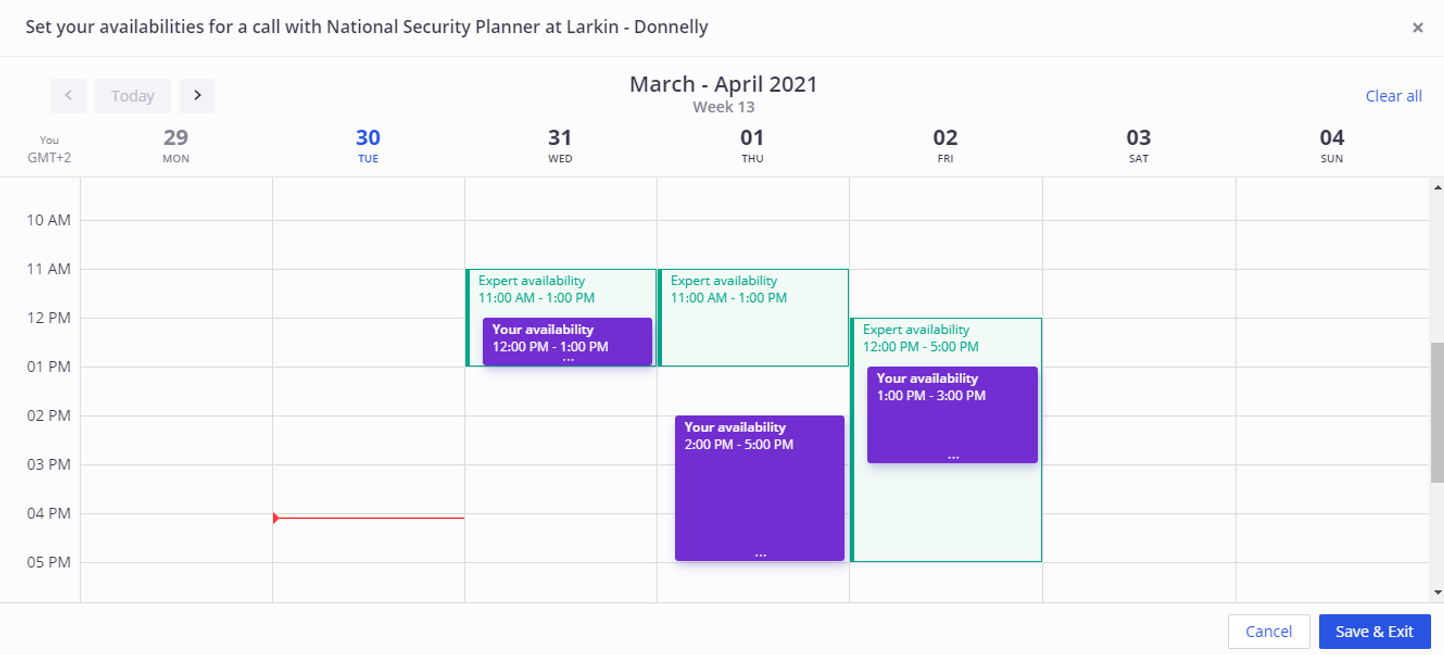 Post-call adventures
By Friday, both Miguel and Angelica are done with their expert calls. Miguel is now chasing the expert networks to get call transcripts. One of them is providing the transcripts for free but the other two ask for a supplementary fee. Miguel agrees to pay but now one of the account managers is not getting back to Miguel with the transcripts. Miguel's colleagues start getting ready for afterwork beers 🍺, but Miguel is still stuck at his desk dialing the phone numbers of the different networks. The firm has also received three different invoices for expert calls in Miguel's project and Miguel must now review them all.
Angelica is already on her way to the pub together with her team. Inex One provides transcripts automatically right after the call, so she didn't have to worry about those. Even though Angelica had engaged several expert networks, she gets one consolidated invoice from Inex One with the internal billing code details, allowing the accounting department to process it without bothering her.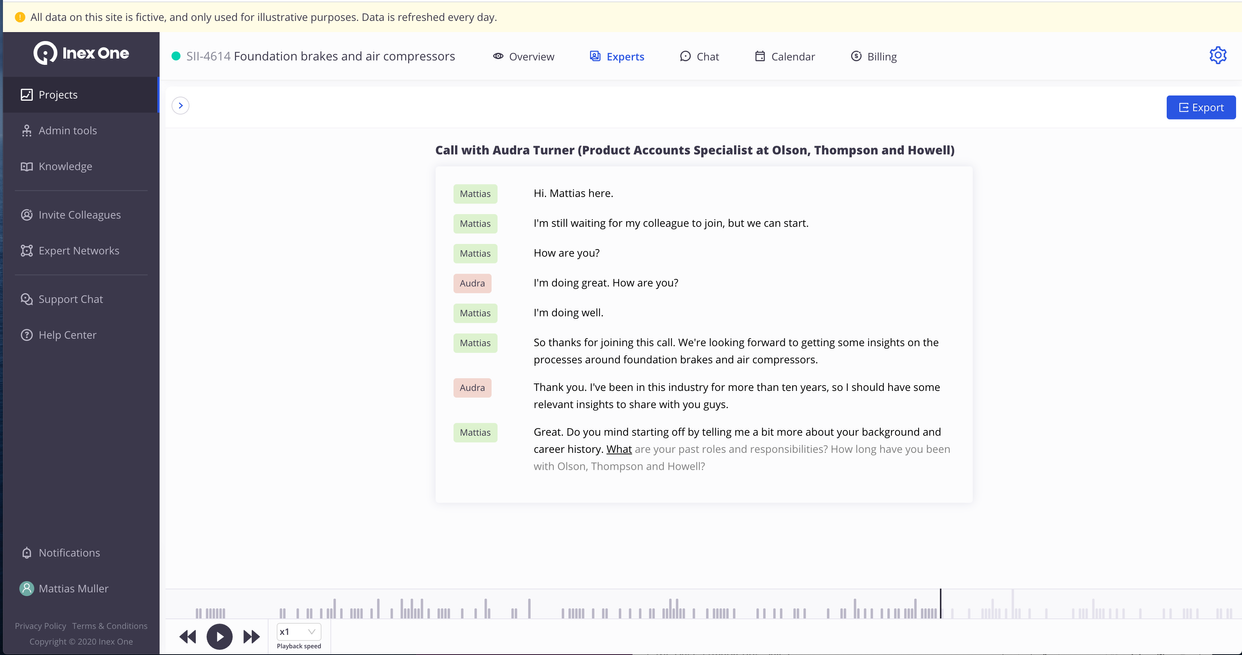 Two hours later Miguel finally joins Angelica and the other colleagues at the pub. Exhausted, he gets a gin tonic at the bar and grabs a chair next to Angelica. He asks her what her secret is when it comes to managing all the hassle related to the expert networks. She smiles secretively and recommends Miguel to try out Inex One on his next project to find it out for himself 😉.
Want to be like Angelica? Get started with Inex One!