15 Nov 2018
Why don't all Expert Networks have the same experts?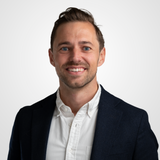 Max Friberg
CEO at Inex One
In your office, who is the best at table tennis? At McKinsey Stockholm, this was easy to say (although I managed to beat him every once in a while 😉).
Now that was easy, how about this one: Who is the best at assessing the market size, growth and key purchasing criteria of industrial vacuum cleaners* ("IVCs") in China, Japan, Germany, the US and India? A bit more difficult.
A quick search on Google shows at least 20 companies selling IVCs in Germany alone (by the name "Industriestaubsauger"). These range from diversified giants such as Bosch and Hitachi to a long tail of specialized IVC and powertools companies such as Einhell, Kärcher and Nilfisk. Just these five companies have in between them ~70,000 alumni registered on LinkedIn. Each of these people may have a great perspective on the IVC market – at least in some geography or function.
As an analyst/manager/director considering an investment in the IVC industry, you wish to understand the market in detail. I listed some common questions below, and matched them to the type of person best placed to answer it.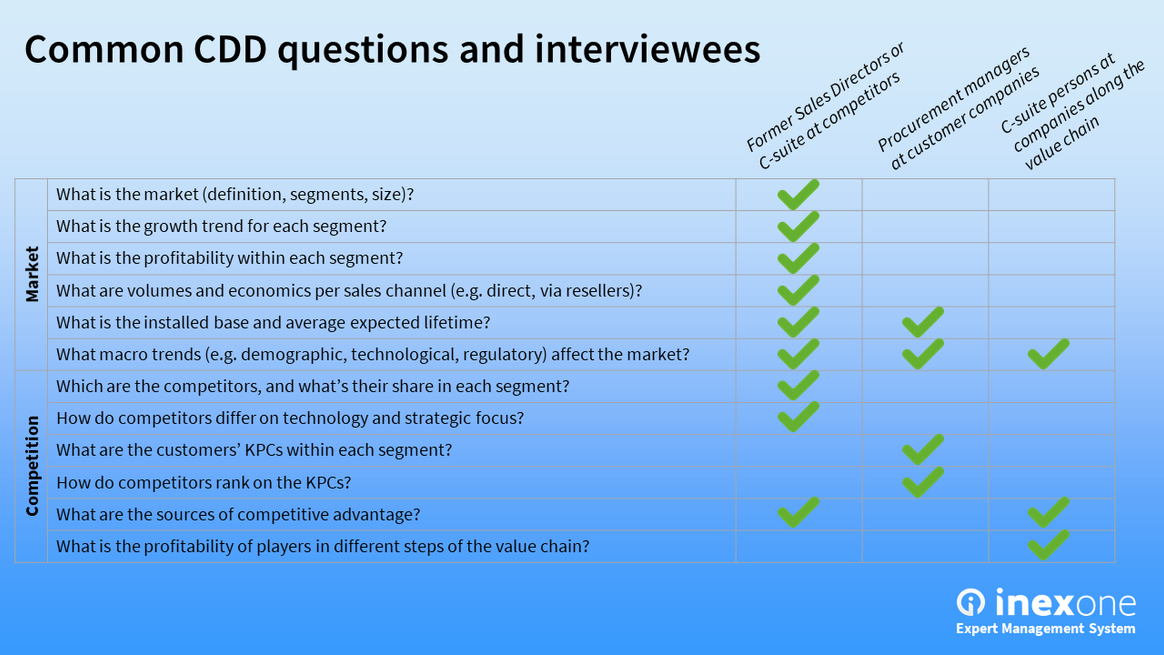 Let's assume that just 5% of the alumni of the IVC companies have relevant and recent experience of the market. Still just looking at these 5 randomly selected companies, we get (70,000 * 5%) = 3,500 potentially highly relevant experts. Then we assume that we have about the same number of experts from customer companies, bringing our total to 7,000 experts.
The needle in the expert network
Now imagine that you are a research associate at an expert network. Fresh out of college, your job is to find experts to your clients. You are staffed on the IVC project and your manager asks you to find 15-20 experts by Thursday. In parallel, you run 4 other projects, so you decide to allocate 2 hours per day to this one. You open a browser tab, type in a few keywords, and you're off. After screening several hundreds of online profiles, you contact about 100 of them. Over the next few days you follow up with these experts, to explain the benefits of doing an expert call and why they should accept your confidentiality agreement. Thursday comes, and your pipeline looks like this: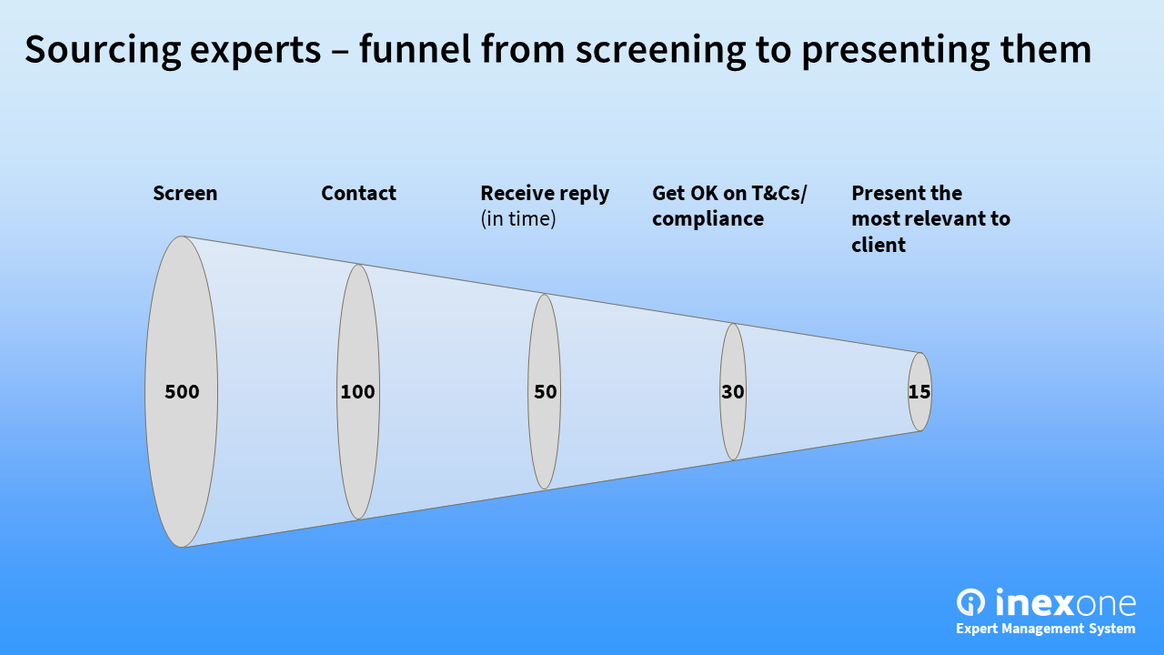 But wait a minute. Didn't we say there were 7,000 relevant experts? You met your target, but isn't that just 0.2% of the total? How would you know whether you got the best ones?
---
Stacking up on expert networks
Now you're the investment analyst again. You were proactive and reached out to four expert networks when you got started on your project. At the end of the week, you now have about 4 x 15 = 60 available, top-rated experts. From your perspective, you're looking at this: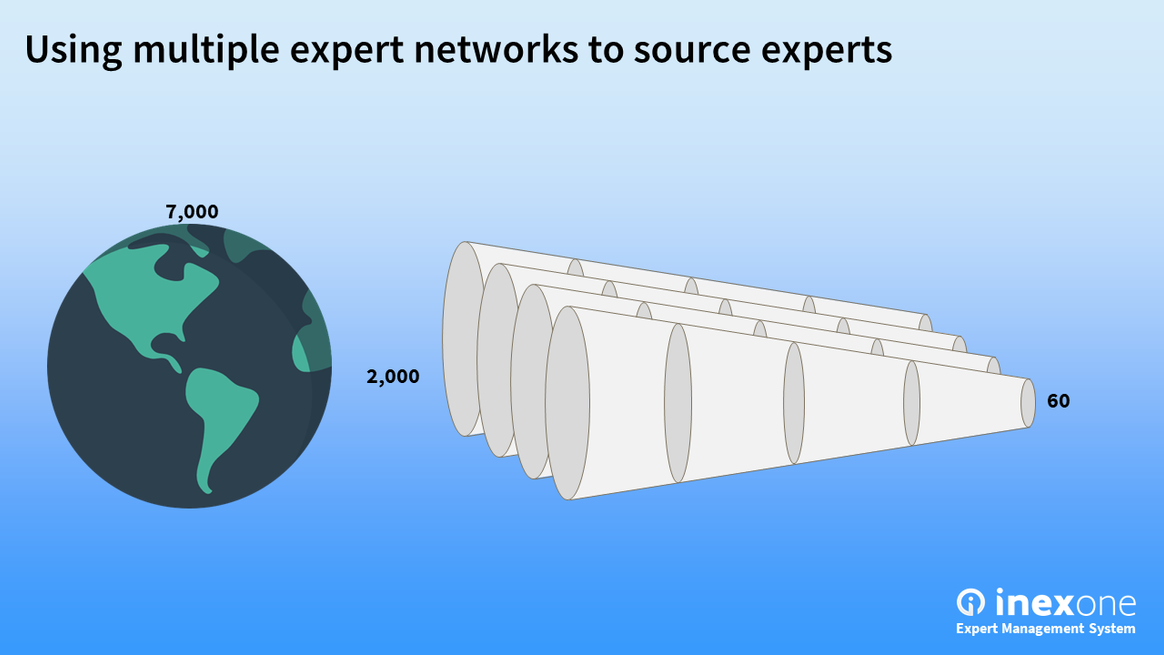 Now, there is typically an overlap with 20-30% showing up at multiple expert networks, according to our research. The reason is that some experts have significantly better fit for each case than others, and that some experts are more active and visible online than others (making them easier to recruit). So you're down to 60 * (1 – 25%) = 45 unique and top-rated experts, thanks to you engaging multiple networks.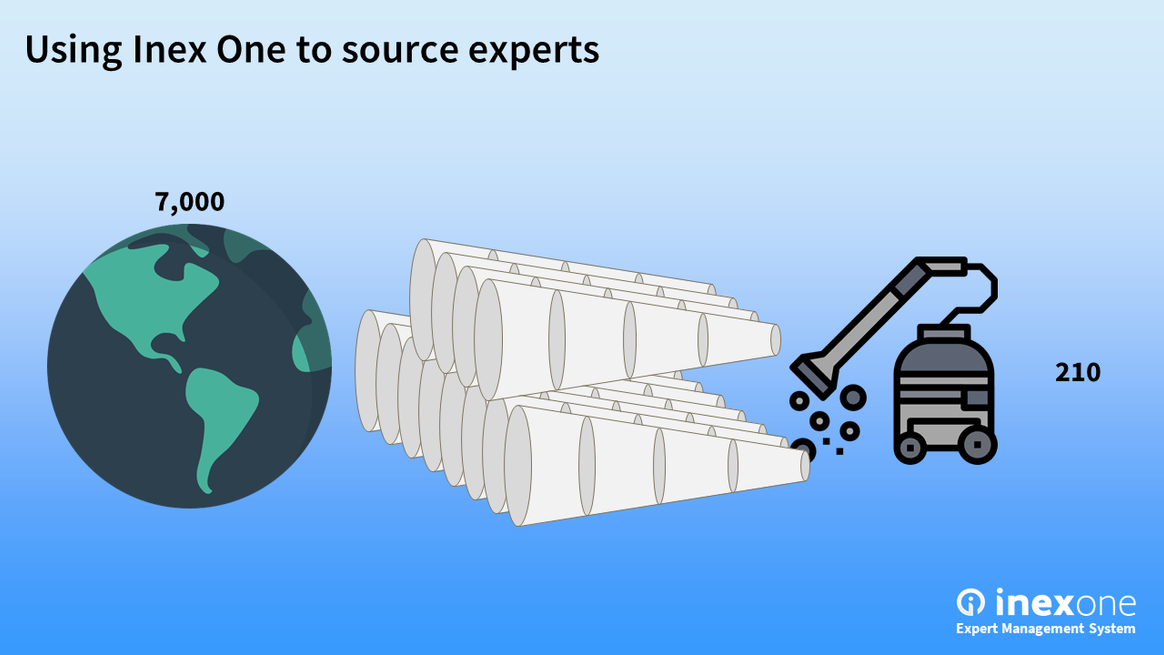 However, most users refrain from engaging multiple expert networks, just because it is challenging (we know, because they told us). The Inex One EMS helps you engage as many networks as you like, without any incremental effort. All Q&A from networks is managed in one place, and all experts are compiled in a single list where duplicates are removed automatically. This is almost like turning an industrial vacuum cleaner (IVC) on the expert market itself. This saves your time and helps you to be great at investment research. Contact us to learn more.
Icons made by Flat Icons, Surang and Freepik from Flaticon under Creative Commons 3.0.
* NB: I chose the IVC industry arbitrarily. I have no prior experience in researching it.