Consulting
Unique insights powered by seamless workflows.
Inex One lets teams access unique expertise, maximize productivity and maintain pipeline visibility.

"Inex One's expert networks are really fast at providing relevant experts. Also, the platform feels very modern vs. more old-school communication styles like using e-mails or calling people."

Nora Suthoff
Senior manager M&A at Deloitte
A better way to run DD projects.
Efficient workflows
Inex One makes the day-to-day of administering expert networks and survey vendors a breeze with everything in one place.
Free call transcripts
Trouble remembering the details of last week's call? We've got you covered. Enjoy free transcripts - included with every call.
Surveys made easy
Find, compare and work with the best survey vendors in one seamless workflow.
Simplified billing
One invoice per project, no matter how many vendors you've engaged. Plus, easily keep track of spend across projects.
The benefits of multiple networks in one platform.
Start using Inex One today.
Everything you need to run smoother DD projects. Just a click away.
Built for smooth collaboration.
Managing DD projects has never been easier.
Get started with your first project in minutes
Access expert profiles from all networks in one dashboard
Direct chat with expert networks and survey providers
Join calls with one click
Enjoy free transcripts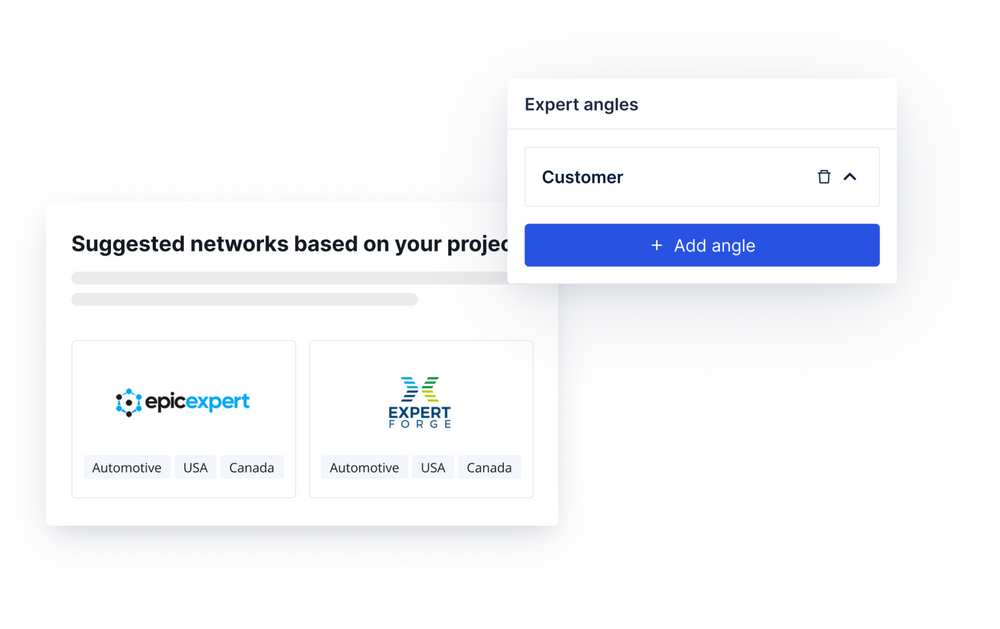 One invoice.
Inex One sends you one invoice per project - for all networks. Add your charge code to easily allocate the cost to the right project.
Enjoy pay-as-you-go, no prepaid credits or fixed fees.
Leading Management Consulting firm reduces time spent on expert calls by 20%
"We ended up conducting fewer calls than planned, and managed to complete our expert call work-stream two days ahead of schedule."
Working with specialized and regional expert networks proved to be a successful concept for a leading management consulting firm. The result? 20% reduction in time spent on expert calls.
Read full case study