Back to expert network directory
GLG
The GLG (Gerson Lehrman Group) expert network was founded in 1998 and is today the world's largest expert network. In October 2022, GLG had 2,300+ employees with offices in 13 countries. Its expert network database contained more than 1 million unique experts with hundreds more being recruited every day.
Looking to use an expert network like GLG? Use these resources:
Guide to getting started with expert networks.
The history of GLG
GLG remains a large vendor to many clients and holds a significant market share. However, GLG's recent growth has been slower, and it has been losing market share to new entrants. Many firms have moved away from only using GLG, to also using e.g. Alphasights, Dialectica, Third Bridge, or multi-network access through Inex One.
When GLG started, experts were recruited "offline", at fairs and events, as recounted by a senior expert. Their expert network was "a decent phone directory", quite far from today's browsable database. With the evolution of the expert network industry, even this database has lost some of its importance: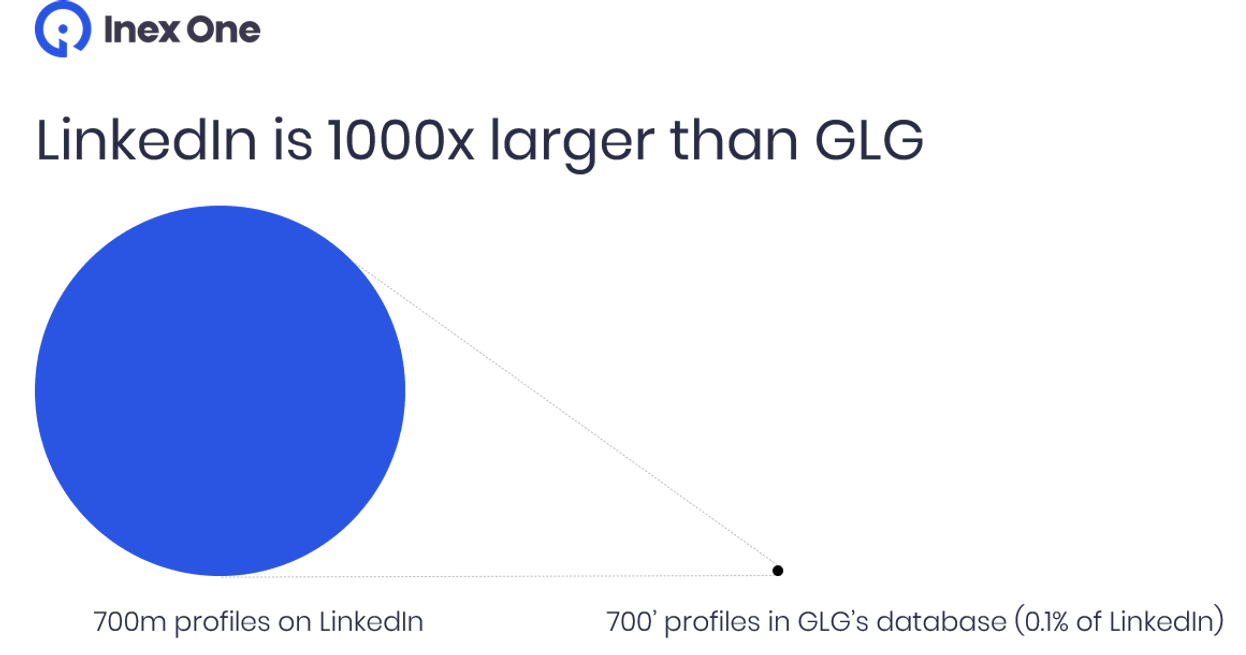 To continue growing, the firm has explored different business areas over the years. These include:
The 1h expert phone call has remained GLG's core business, throughout the years of service iterations.
Financing milestones for GLG:
In 2004, GLG raised $30m from Bessemer Venture Partners.

In 2004, GLG was also said to consider a sale. At the time, revenues were said to be $80m, with $20m EBITDA. Reports said it could be valued between $350-500m. The company ended up not selling.

In 2007, Silver Lake invested $200m at a supposed $875m valuation. Former executives claim that the purpose was an imminent stock market listing. However, for various reasons, GLG remained private. Former executives mention that reasons included the global financial crisis, regulatory scrutiny, and GLG's sustained profitable growth.

In 2009, GLG acquired French expert network TGR Research for an undisclosed sum.

In 2015, GLG bought back Silver Lake's stake, raising $212m external funds from SFW Capital "at an enterprise value in excess of $700m". Silicon Valley Bank provided a $250m credit line. At the time, the NY Times cited a source saying that Silver Lake had made $50m from the investment, representing <3% IRR for its 8-year holding period.

By 2019, SFW Capital had reportedly earned back its full investment through dividends.

July 2022, GLG named Gemma Postlewaithe as its new CEO. She replaced Paul Todd who had led the company for five years through the pandemic and IPO attempt.
"GLG cubs" – expert networks started by former employees
GLG public offering (IPO) in 2021
On 18 October 2021, GLG filed an S-1 with the US Securities and Exchange Commission, to go public on Nasdaq under the ticker "GLGX". The process was jointly led by Morgan Stanley and Goldman Sachs. However, the IPO was rumored to be halting, and in late March 2022 finally withdrawn.
The filing process revealed data on revenue and margins that were previously not known to the public (however our expert network market sizing was pretty close!).
Had it gone public, GLG would have followed VisasQ, which listed on the Tokyo stock exchange in March 2020. In the summer of 2021, Capvision filed early documents ahead of a future IPO in Hong Kong.
Further reading
GLG has evolved significantly over time. We discuss the emergence and history of GLG in our history of the expert network industry. Furthermore, a senior expert shared colorful insights on the expert network's evolution in this piece. In 2019, GLG generated close to $550m revenues and remains the largest expert network in the industry by revenue.
GLG Strategic Solutions / GLG Strategic Projects is the company's consulting arm. It is led by a former McKinsey consultant and is promoted as a full-blown consulting service. From the GLG Projects website in September 2020 (our highlighting):
"GLG Projects deliver strategic recommendations informed by real-world expertise. For each engagement, we put together tailored teams of top-tier consultants and subject-matter experts with experience across industries and disciplines. Our work includes fully managed
market assessments,

due diligence studies,

brand analyses,

voice-of-customer studies, and

corporate strategy projects."
Some of GLG's significant consulting clients have shown concern about GLG effectively competing with them, while it also handles their sensitive consulting project data. As per September 2020, roughly 200 employees (~10% of GLG's workforce) were involved in the strategic projects branch.
Evolution of the GLG logo: